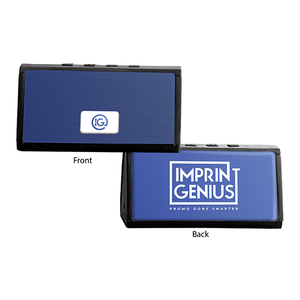 Ampzer™ Wireless Speaker
The Ampzer wireless speaker will amplify your brand and your tunes! The Ampzer stands out from the rest offering crisp sound quality, a unique shape, and three total imprint areas. This wireless speaker is build like a pyramid, offering a dome imprint on one side, and a print and dome combination imprint on the other. Get creative with the Ampzer!
Wireless capability up to 33 ft

5W wireless speaker

On speaker controls with built-in microphone

Up to 5 hrs of audio playtime

Includes Charging & Auxiliary Cord
Mock-ups shown are a digital representation of product design capabilities. Certain digital aspects may appear slightly different on the physical product.