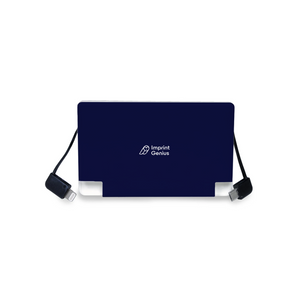 Griptyte Power™ 3000 (mAh)
Never be caught with a dead phone again!  The Griptyte Power 3000 is a power bank that allows you to charge your device with built-in cables for iPhone and Android devices.  Securely attach the Griptyte Power 3000 to your phone with our Sticky Pad ® technology and no longer worry about juggling devices and cords.  Pass-through technology allows simultaneous charging of your phone and power bank with only one cable.  Safe circuit design includes protection from overcharge, over discharge, overload, and short circuit.  The "on" button allows it to hold and maintain a full charge until needed.  Comes with a protective cover to keep the Sticky Pad clean while not in use.  3000 mAh will provide at least one full charge for most phones. 
*This product can only ship to the Continental U.S.
Built-in cables for iPhone and Android devices   
Premium Grade A lithium battery
Extremely thin design makes for easy handling and storing
Four LED lights indicate charge level
Apple MFi certified with genuine authentic components
Mock-ups shown are a digital representation of product design capabilities. Certain digital aspects may appear slightly different on the physical product.