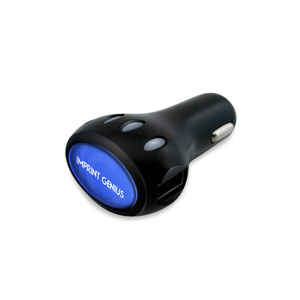 ELECTRON™ USB Car Charger
Max power on the go! The ELECTRON USB Car Charger allows you to quickly charge multiple devices with 2.1 amps of power per USB port, producing a combined total output of 4.2 amps. The intelligent circuit identifies the connected devices and adjusts output automatically for optimized charging. Auto-protect feature detects excessive heat to protect both the ELECTRON and connected devices. 
4.2 total amps outperforms most chargers on the market
Dual USB ports allows for two devices to be charged simultaneously
Eight bright green LED lights add a visual ambiance and increased visibility at night
Safe circuit design includes protection from overcharge, over discharge, overload, and short circuit
Mock-ups shown are a digital representation of product design capabilities. Certain digital aspects may appear slightly different on the physical product.